If you've ever wondered about the process of creating jersey fabric, you're not alone. The process of creating jersey fabric is similar, regardless of the type of fibers used. Cotton is used primarily, but polyester and other synthetic fibers are sometimes used, too. In both cases, the fibers are created separately, cleaned, and sorted before they are combined to create a finished fabric. Regardless of what kind of fibers are used, the first step in the process is pre-washing the fabric to prevent shrinking.


Wool is a natural fiber, which is also biodegradable. If made from 100 percent natural fibres, jersey can degrade in one to five years. Synthetic textiles can take 200 years to degrade. Wool and cotton are organic and non-harmful to animals. However, non-organic cotton blended with pesticides may harm wildlife and contaminate air, water, and soil. Consequently, it is best to choose jersey fabric made from organic materials.


Jersey fabric
is a knitted fabric with many great qualities. It is lightweight, insulating, and flexible. It can be made from 100% cotton or a cotton/poly blend. This type of fabric can be created by hand or by flat circular knitting machines. It is also crease-resistant and has a small grain. Because of the elasticity, jersey garments fit much closer to the body than woven fabrics. A good example of how this type of fabric can fit is in the torso of a t-shirt.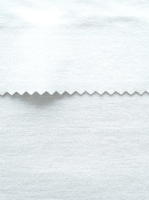 The best jersey fabric to use for drapey garments is lightweight. You can use a fine cotton or rayon jersey fabric for these. For smocked and gathered dresses, this type of fabric is ideal. It is also suitable for winter clothing such as sweaters and oversize sweatshirts. You can find jerseys in various styles, from classic to trendy. The best part is that they're both comfortable and stylish! The following tips will help you choose the best fabric for your next garment.


While jersey fabric may seem like a simple knit, it's actually a breathable, soft fabric that is commonly used for sportswear. Originally made from wool, it has now been created with cotton or synthetic fibers. A jersey knit fabric's smooth side is a smooth surface, while the backside is a pile of loops. The fabric is usually light to medium-weight. The jersey fabric was first made in medieval times in the Channel Islands, where it was used to make fishing sweaters and underwear.


Since the jersey fabric has so many great qualities, it's no surprise that it's become one of the most popular types of clothing in the world. The most notable application of this fabric is in T-shirts. It is extremely comfortable and breathable, and many T-shirts are made of jersey fabric. For women, a jersey t-shirt is the perfect choice.